EY-Parthenon Case Competition
Download a one-page informational flyer here.
The Yale Education Leadership Conference is excited to collaborate with EY-Parthenon, Ernst & Young LLP, to present the leading education-focused case competition.
Unlike other case competitions, the Yale Education Leadership Conference/EY-Parthenon Case Competition will ask interdisciplinary teams to present solutions to current challenges faced by Puerto Rico's Department of Education with participating teams having the opportunity to influence the transformation of the island's economy and education system.

The case competition will follow a two-round format. The top five teams will be invited to present their solution to EY-Parthenon leadership April 4th - 5th at the Yale Education Leadership Conference in New Haven, Connecticut.

The prize for first, second, and third place are $3,000, $2,000, and $1,000, respectively.


Teams will be invited to participate in the initial round of the competition based on their application, which is due by 11:59 PM EST on Sunday, February 17th. Apply here.
Case Overview Provided Below
cASE OVERVIEW
Puerto Rico Department of Education is faced with challenges in rebuilding its education system -- the current system does not work in serving its student and teachers. Academic outcomes are poor on all measures (from proficiency to graduation rates) and lag substantially behind those in all states in the US. Student enrollment have also declined dramatically in the past 5 years, with loss of ~100,000 students from the public system (PRDE data). Conditions for teachers are difficult, with average annual salary far below all US states (NCES 2013 data). Funding and fiscal crisis have also contributed to low academic achievement and difficult conditions for teachers, with per pupil funding almost half of that in the mainland. Finally, the historically over-bureaucratic management structure of the educational system has not allowed for accountability throughout the system.
Impacts of Hurricane Maria have only made the situation worse. Majority of PRDE schools were out of session after the hurricane, and many school buildings and basic infrastructure were destructed. As a result, many students were unable to attend school; many educators have also left the island looking for better opportunities on the mainland. As thousands move to the mainland U.S., the island faces a significant threat of "brain drain" and is working to not only cultivate high-achieving students but also to keep high-achieving students and educators on the island.
Selected teams will work on a raw case addressing the issues outlined above, developing a 15-slide proposal on how PRDE can not only drive student academic performance up but also foster connections between the education system and the local workforce in both urban and rural areas, by cultivating appealing opportunities matching the economic needs of the island.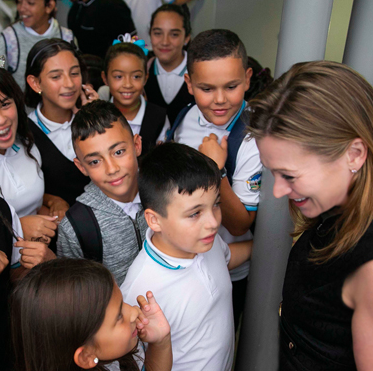 "I don't know of another system that has had to deal with so many simultaneous interconnected challenges…"
- Puerto Rico Secretary of Education Julia Keleher (article in EducationDive, 2018)
Entering the Case Competition:
Application Requirements

How it works
Students interested in participating must form teams of 3-5 (with recommended at least one student in an MBA program) and submit an online application by 23:59 EST on 2/17 (Sun).

Roughly 15-20 teams will be selected as semifinalists based on the application. Semifinalist teams will receive a case prompt, addressing the current issues in Puerto Rico, and will prepare a ~15-page slide deck outlining answers to the case questions (i.e., solutions to the issues addressed).

Teams will be judged on the criteria outlined below, and 5 teams will be chosen as finalists to present their solutions at the Yale Education Leadership Conference on April 5, 2019. Finalist team will receive feedback from the EY-Parthenon team, along with additional short prompt to address in the final presentation. (Travel for finalists will be reimbursed.)

EY-Parthenon will hold office hours to semifinalist and finalist teams before the submission deadlines to answer team questions.


Application requirements
Form team of 3-5 members

Interdisciplinary teams are encouraged, but not required.

Recommended to have at least 1 member on your team enrolled in an MBA program.

You do NOT need professional experience in education to participate. We are looking for passionate leaders to problem solve and come up with creative solutions to current challenges faced by Puerto Rico's Department of Education.

Fill out and submit application here by 11:59 EST on February 17 (Sun). Please reach out to Ryo Moriyasu at ryo.moriyasu@yale.edu for any questions.

Judging criteria

Team presentations will be judged based on the following criteria:
Quality of the recommendation (i.e., implementation plan/strategy)



Size of impact (quantified)



Feasibility of the strategy (cost/budget requirements, timeline, talent requirements, etc.)



Risk analysis and mitigation actions



Clarity and creativity of deliverables and presentation
timeline

February 17 (Sun):
Online application due
February 22 (Fri):
Semifinalists (~15-20 teams) announced based on online application; case prompt sent to semi-finalist teams
March 15 (Fri):
Team presentation document due (Online submission of 15-page presentation)
March 22 (Fri):
Finalists announced and second prompt sent; Finalists update solution based on feedback from EY-Parthenon team and work on additional prompt
April 5 (Fri):
Finalists present to EY-Parthenon team at ELC (~20 page slide deck + presentation)