Lynn Hall Teacher Action Research Prize
YOU ARE ALREADY DOING IT. FORMALIZE IT. SUBMIT IT. WIN IT.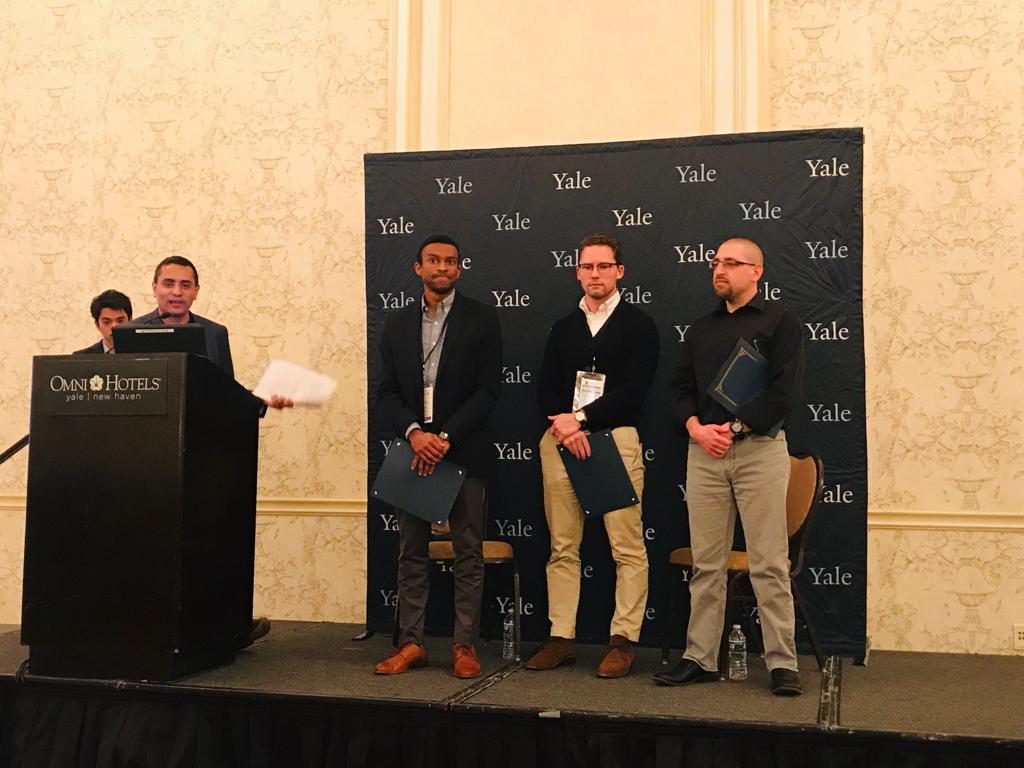 to the #ELC2019 Lynn Hall
Teacher Action Research Prize Winners!
Thank you for your amazing work in the classroom, and for sharing your best practices with the ELC community.
How It Works
Develop an intervention to improve student outcomes (curriculum unit, classroom management strategy, school policy, etc.)

Carry out the intervention and collect data

Evaluate impact and implications
Applications open
Submission deadline
Winners are contacted
1st prize winner presents research at ELC
December 2018
February 25, 2019
March 2019
April 4-5, 2019
ELIGIBILITY
We encourage applications from any current pre-kindergarten to 12th grade teacher or team of teachers, or full-time after-school educator.
Prizes
Check will be awarded at the conference, along with the opportunity to present research at the Yale Education Leadership Conference on April 4-5, 2019. Reimbursement is available to cover travel expenses for first place winners. All winning submissions will be published on the Conference website and disseminated to Conference participants and press.
First Prize: $3,000

Second Prize: $2,000

Third Price: $1,000
How to Enter
Submission Template:
Download the submission template here. This template also includes the competition's scoring breakdown across sections.

Follow the instruction in this form to submit a PDF of your report by February 25, 2019.
Please contact kevin.martinez@yale.edu and anna.collura@yale.edu if you have any questions.
Evaluation Criteria:
All submissions will be evaluated by a committee of former educators using this rubric
In Memoriam
Lynn Hall was a teacher action researcher throughout her teaching career in Cincinnati and Columbus, Ohio, and Harrisonburg, Virginia. At Columbus Academy, she inaugurated a cross-grade experiential learning camping trip that was used for decades. In Harrisonburg, she was a founding 6th grade English Language Arts and social studies teacher at Thomas Harrison Middle School, a model for middle schools across Virginia. She implemented writers' workshop and continually evolved her own practice as Harrisonburg City Schools changed from a small, homogenous rural town, to the school district with the greatest proportion of English Language Learners in Virginia.
In one annual observation, her principal wrote that the only way she could improve her teaching was to better share her teaching practices. This prize strives to help other stellar teachers share their expertise and receive the recognition they deserve. Her career was cut short by breast cancer, but she inspired many of her students, and her daughter, to become educators and continually strive to reach all of our students. This prize is founded in her memory by her children, Cassandra Valdivia, Bryce Hall (SOM '12), and Morgan Hall (SOM '10).
Frequently Asked Questions
Q: I don't think I'm really doing "research." How do I get started?
A: You are doing research! As a teacher, you are always thinking about how you can help your students learn more, and doing informal experiments to try to reach and engage more students (or maybe just that one student). Check out our template for the competition or some of the links at the end of this document to get a sense of how action research can be made more rigorous and impactful. We also discuss a few neat ideas in the next FAQ.
Q: I don't know what to do research about. Can you give me examples of past winners?
A: The 2011 winner researched the effect of "clicker" technology in her AP science class. The 2010 winner tried a critical literacy program to try to get her students with severe emotional challenges to focus more in school and get along better. The second place winners tried a graphical method of teaching their students ratios. Another finalist evaluated the impact of a phonics intervention with first-grade English Language Learners. Other teacher action research has tested efforts to encourage students to speak up more in class, how writing in math class affects student understanding, or how grouping affects students' reading gains.
Q: I can't think of an intervention to try. How do I think of something new to do?
A: Research helps here. Previous winners referred to research from academic journals and professional teachers' organizations, such as the National Council of Teachers of Mathematics or English. You can also talk to your colleagues, coaches, or principal for ideas on new ideas to try, or go observe a colleague. Your students may also have recommendations!
Q: What kind of data should I collect?
A: The change you see will be more compelling if you have multiple sources of evidence. Data may be easier to measure when it's quantitative, and there are lots of types of quantitative data:
Test scores or attendance

Number of errors in a reading passage

Number of students completing homework

Number of students raising hands, interrupting a lesson, or getting out of their seat
Qualitative data can also be compared over time or across groups. Qualitative data includes:
Student or parent opinion surveys

Teacher or student journal entries about student engagement

Difficulty of a task or quality of analysis

Evidence of collaboration
Q: Where can I get more information on teacher action research?
A: There are helpful resources at:
Previous Winners
Winning Submissions from 2018:
Winning Submissions from 2017:
Winning Submissions from 2016:
Winning Submissions from 2015:
Winning Submissions from 2012:
Winning Submissions from 2011:
Winning Submissions from 2010: